UNICEF Photo of the Year 2005
Each year, UNICEF Germany grants the "UNICEF Photo of the Year Award" to photos and photo series that best depict the personality and living conditions of children worldwide in an outstanding manner. Here are the winners 2005.
David Gillanders
Street children in Odessa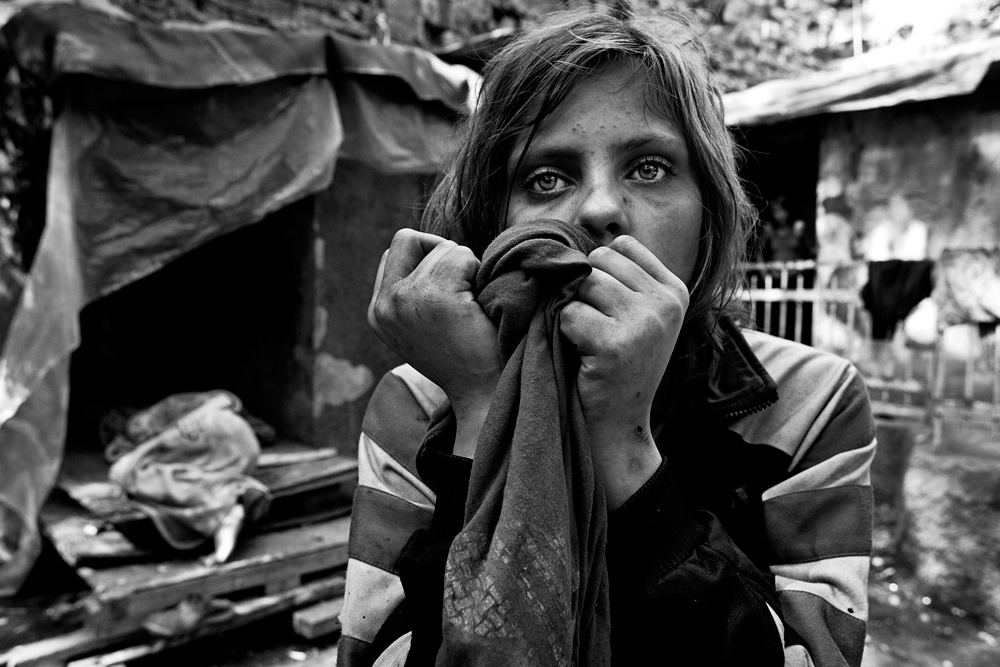 13 year old Yana finds her way from Moldova to the Ukraine. Her father, an alcoholic, died early; her mother was sent to jail when Yana was eight years old. Since, she has been living on the street, recently in Odessa. By injecting drugs, she gets infected with the HI-Virus. During Christmas 2004, she feels very sick, crawls into a hole and dies in the winter cold.
The Scottish photographer David John Gillanders is working on a project about street children in Odessa since three years. His attention is directed towards a lost generation: Children who grow up without parental protection in the States of the former Soviet Union. Hundreds of thousands of them are homeless. They wash cars, collect bottles or sell stolen goods. Many of them work as prostitutes or take drugs. More and more kids continue to become infected with HIV.
Yana's story is not an exception. Even more, it is typical for the hardships a growing number of children and teenagers has to endure in Eastern European States. Nowhere in the world is the virus spreading as fast as in this region. Since 1995, the number of people infected with HIV increased from 160.000 to 1.4 million. In the Ukraine, the rate of infections is even twentyfold higher than five years ago. Meanwhile, 360 000 are HIV positive.
AIDS is a silent disaster that had been pushed aside also in Eastern Europe for too long. The virus spread almost unnoticed, mainly by drug abuse. Addicts share dirty needles and infect each other. In the meantime, the virus threatens all parts of the society. In particular young people are affected: 80 percent of all HIV-infected persons in Eastern Europe are younger than 30 years – ten percent of them are children. Women are especially vulnerable. In the Ukraine, 40 percent of all people living with HIV are female.
2nd Prize for Maurício Lima, "The aftermath of the war in Iraq"
Ayad Ali Brissam Karim was born in Baghdad in 1991. In 2003, during the Gulf War, the farm of his parents gets into the frontline and is attacked by US-American helicopters. His uncle Mohammad loses his leg. His grandmother Telba is injured, too, when trying to help Ayad. Ayad's face is badly burnt and his right eye becomes blind.
"He left school because the other boys teased him", says his 42-year old father, Ali Brissam Karim. "He can speak, however, he cannot read. He cannot help us with field work."
Worse than the physical injuries are the psychological consequences. "Many times a day he asks the same question and becomes aggressive for no obvious reason", his mother says. In the meantime, Ayad has undergone medical treatment in the US, however, his eyesight could not be recovered.
3rd Prize for Frida Hedberg, "Boys and Girls"
The view of Frida Hedberg, a young Swedish photographer who was nominated for the UNICEF Photo of the year in September 2005, seems to be full of understanding. Encouraged by her success, she spontaneously elaborated a new series of pictures. Fridberg took them in her own country, at a school party in the small village Äspered close to Gothenburg.
In an amusing way she shows how seven and eight year old kids prepare themselves for the dancing stage. The awarded photo is titled "Boys and Girls". It catches the glance of a little boy getting a first impression of what a school party is all about.
Honorable Mentions