UNICEF Photo of the Year 2006
Each year, UNICEF Germany grants the "UNICEF Photo of the Year Award" to photos and photo series that best depict the personality and living conditions of children worldwide in an outstanding manner. Here are the winners 2006.
Jan Grarup
The Kashmir Earthquake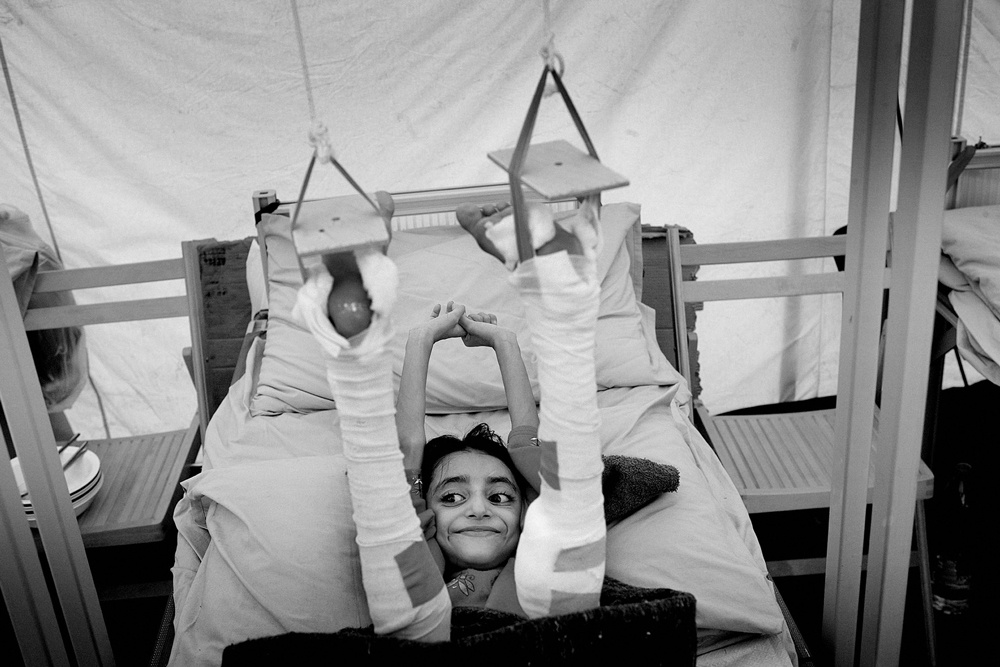 The five year old Rahila is all smiles. She is a patient of the Red Cross Hospital in the northern Pakistani city of Muzaffarabad. An extension bandage covers her legs because she broke her lower leg and thigh during the devastating earthquake of 10/8/2005. But nevertheless she is all smiles, as if she was perfectly fine.
Three weeks after the earthquake Danish photographer Jan Grarup traveled to Pakistan. He took a flight to Muzaffarabad, the capital of the Pakistani part of Kashmir. The earthquake measuring 7.6 on the Richter scale almost completely destroyed the city. More than 70,000 inhabitants of the Kashmir region died in the earthquake, 18,000 of which were children. 3.3 million Kashmiris lost their homes and after one full year 30,000 people are said to still live in emergency camps.
Rahila was one of many gravely injured girls and boys in the children's department of the local hospital. The doctors covered her multiple fractured legs with an extension bandage. In order to give her medical treatment she had to be evacuated by helicopter from her village. The flight that saved Rahila's life took half an hour.
"I was so impressed by her smile amidst all the grief and despair", says Grarup, a second time winner of the UNICEF award. "The little girl is living proof of the strength that lies in children."
2nd Prize for Shehzad Noorani, "Children of Black Dust"
Hajira (8 years old) recycles thousands of batteries, by bursting them using a simple hammer, one at a time. She works with her mother and also helps to look after her siblings Mumtaz (3 years old, girl) and Yasmin (1 year old).
"I am not against child labour. I know, how many important opportunities it provides. It can change lives. For many children, earning a living or supplementing family's income is a matter of survival. However, there is a difference between a child who works in a garment factory or in a restaurant and one who is exploited in a hazmat recycling ghetto or a brothel", Shezad Noorani says, who himself grew up as childworker in Bangladesh and lives now in the USA.
3rd Prize for Hanna Polak, "Moscow´s homeless children"
Roma (4 years old), Svieta (5 years old), Sergiey (12 years old) are living during the fall and winter on hot pipes. The place is filthy and very humid. There are plenty of rats, almost no light, except home made candles. During daytime children beg in the subway.
The Polish photographer Hanna Polak accompanied homeless children in Moscow. Alcoholic parents, poverty - stricken homes, and, in many cases, family violence, force children out of their homes and onto the streets, usually ending their dreams of a better life.
These "invisible" children of Russia get addicted to drugs, cigarettes, and alcohol at a very young age, many as early as four or five years old. If not from drugs, many homeless Russian children perish at the hands of pedophiles, or from hunger and frost during extreme Russian winters. Some attempt suicide and many succeed. Those who survive are doomed for degradation, and, in most cases, join the ranks of a great army of young criminals.
Honorable Mentions