Europe's dilemma – Europe's responsibility
UNICEF Photo of the year 2015
Berlin, 17 December 2015 - UNICEF- patroness Daniela Schadt honors photographer Georgi Licovski from the Former Yugoslav Republic of Macedonia.
The winning entry to the international competition "UNICEF Photo of the year 2015" shows the utter despair of refugee children at the Greek-Macedonian border. The photographer Georgi Licovski (epa) captured a scene that took place on August 21, 2015 when two children were separated from their parents in the chaos that ensued when a large number of refugees tried to push past border troops.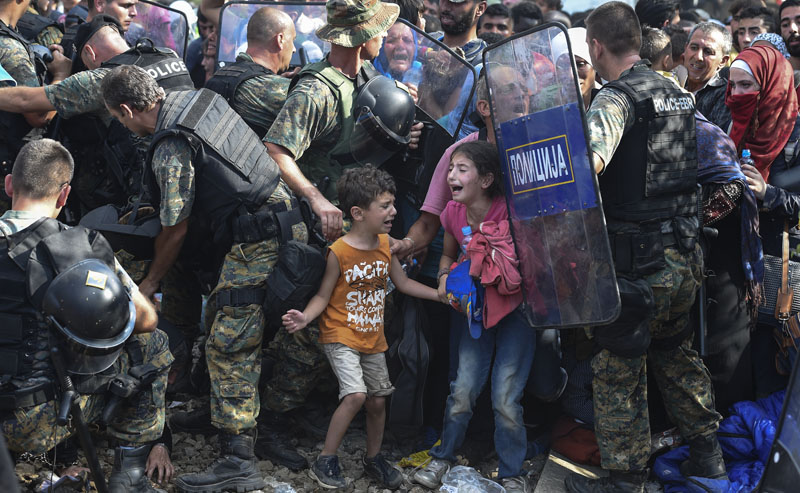 The winner of this year's second prize, Swedish photojournalist Magnus Wennman (Aftonbladed), took pictures of sleeping refugee children in the Middle East and on their way to Europe. The resilience that parents and children have to show in times of war is the topic of the picture that won this year's third prize. It was taken by Jerusalem-based US photographer Heidi Levine (Sipa Press) and shows a severely injured Palestinian father and his little son. The international competition "UNICEF Photo of the year" is sponsored by GEO Magazine and DZ BANK.
"As if through a magnifying glass, Georgi Licovski captured in his image the desperate situation of children who are fleeing war and violence", said the patroness of UNICEF Germany, Daniela Schadt, at the presentation of the UNICEF Photo of the Year 2015 in Berlin. "This picture is a snapshot that captures both Europe's dilemma and its responsibility."
"The competing photographers dramatically and vividly document what people do to each other and to their children ", said Jury Chairman Prof. Dr. Klaus Honnef. "With their unique skills, their powers of observation and their empathy, however, they also show the courage, hope and endurance of children – beyond the clichés of the news business."
The winning photo: The utter despair of refugee children
It was on August 21, 2015 on the Greek-Macedonian border, that this traumatic situation for two refugee children took place and was witnessed by photographer Georgi Licovski (European Press Agency). He was faced with an extremely unsettling situation: In order to appeal to the emotions of the Macedonian border troops, some refugees sent their women and children to the front lines. With the mass of people pushing from the back, children were separated from their parents and in some cases taken across the border by strangers while their parents and relatives were unable to get through. Another tragedy within this global tragedy that starts in Afghanistan, Iraq and Syria – and obviously does not end in Europe. According to UNICEF estimates, 25% of the 730,000 refugees who entered the EU between January and November 2015 via the Balkans route were children and teenagers.
Second prize: Where the children sleep – refugee children on the road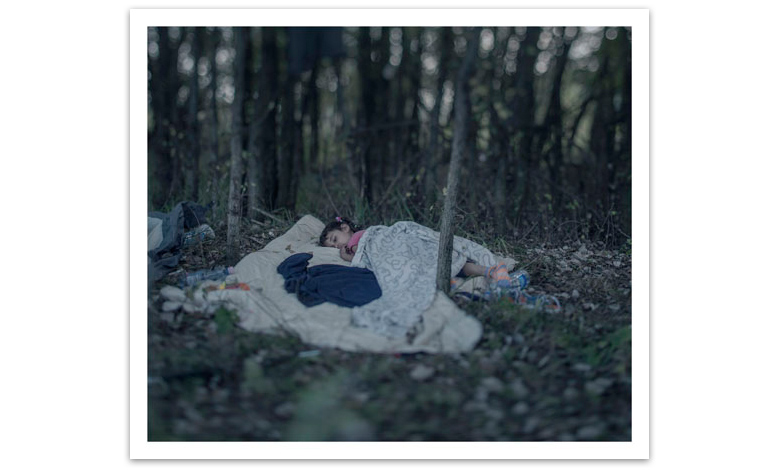 They dream of home, their bed, their toys. And in their nightmares, it is raining fire, houses explode, their siblings die. Now they sleep in tents, containers, field hospitals, at street crossings and next to train stations in foreign countries. Or, like five-year-old Lamar, in a forest near Horgos in Serbia. She fled Baghdad together with her parents and her grandmother after their house was hit by a bomb. It took Lamar's family three attempts to get from Turkey to Greece in a dinghy. Photographer Magnus Wennman simply calls his photo documentary "Where the children sleep". It is basically a collection of horror stories from Homs and Aleppo, Daraa, Damascus and other Syrian cities. According to UNICEF, there is no safe place left for children in Syria after five years of civil war.
Third prize: What children have to endure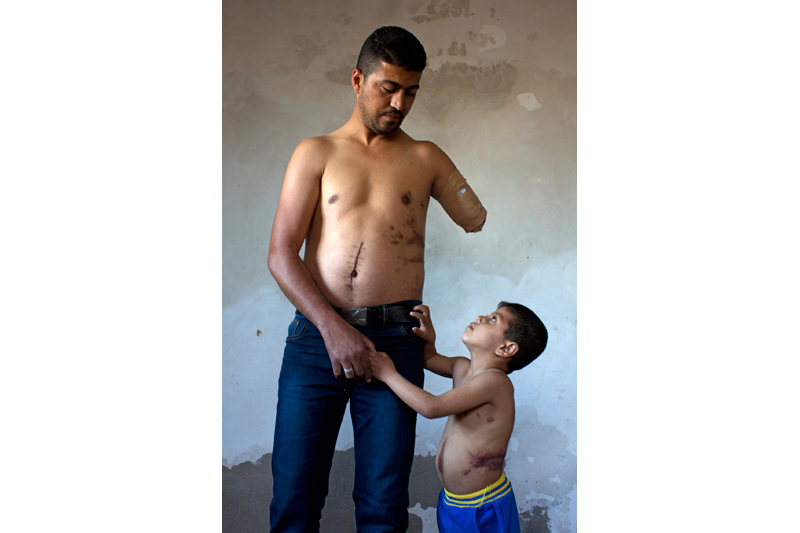 You need to be strong if you are a boy of five and have to see your father as Badruddin does in this photo by US photographer Heidi Levine, when he looks up to his father who sustained serious injuries during the Gaza War. And also if, even as a little boy, you have been close to death yourself. After a bomb attack, Badruddin had to have his liver removed, his mother and his four brothers and sisters were killed. "Healing and Resilience in Gaza" is the title of Heidi Levine's photo series. The mother of three lives in Jerusalem, Israel, from where she keeps track of the events in the Gaza Strip. Is there such a thing as a "just war"? That is for military historians, philosophers, theologians and politicians to discuss. Only one thing is clear: there is no war that spares the children.
The jury also awarded honorable mentions to eight other photo series:
We can provide you with the winning photos on request (only one photo per series). Free printout of the photos is only allowed within news coverage about "UNICEF Photo of the year 2015" and with copyright information of the photographers and their agency.
If you have any questions, please contact the UNICEF press office:
Rudi Tarneden and Kristina Müller +49 (0)221/93650-235 or -315, email presse@unicef.de or Angela Rupprecht (Project Manager) +49 (0)173/5475351.