Deprivation, suffering and great joy
UNICEF Photo of the Year 2014


Berlin, 16 December 2014 - Daniela Schadt, patroness of UNICEF Germany, honors Niclas Hammarström for his photo series on the life of war children in Syria.
German photographers Insa Hagemann and Stefan Finger are this year's winners of the international competition "UNICEF Photo of the Year". They are honored for their photo series on sex tourism in the Philippines and the resulting situation of children fathered by foreign men.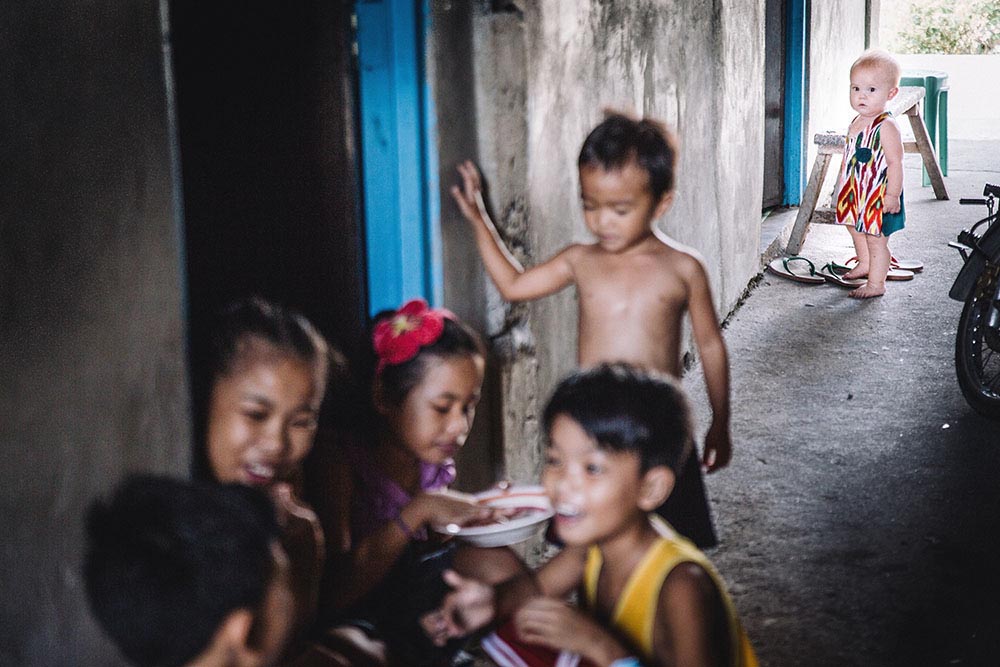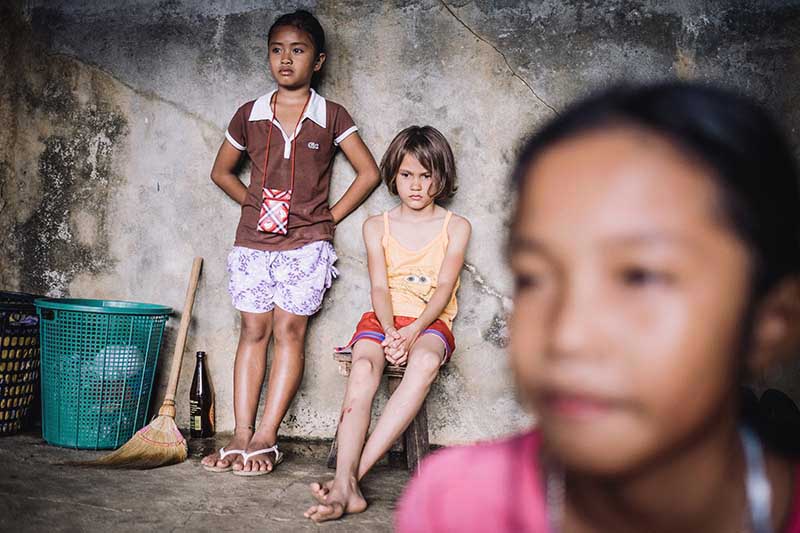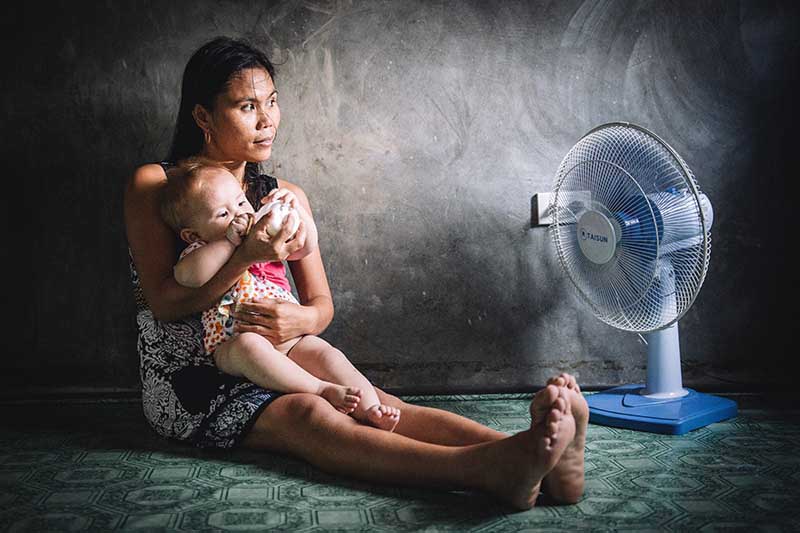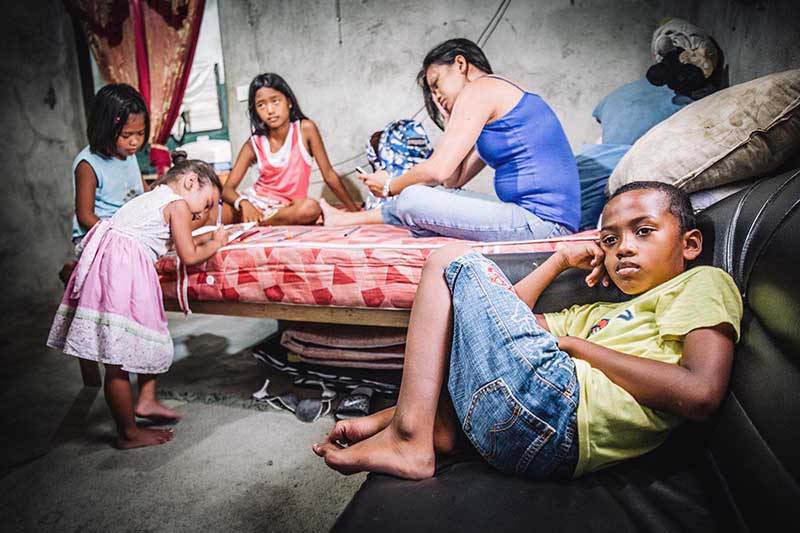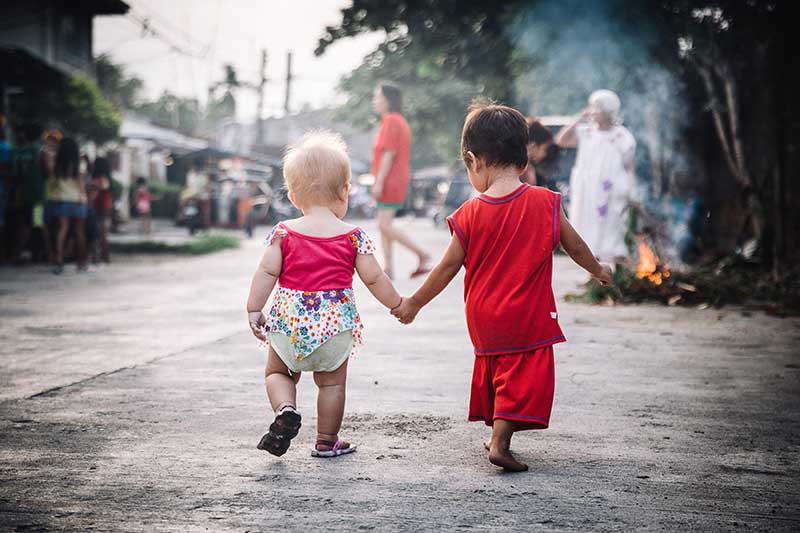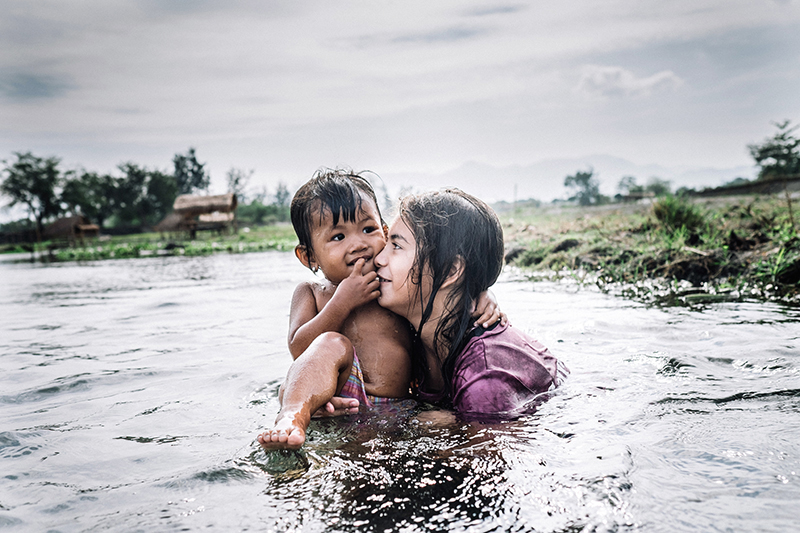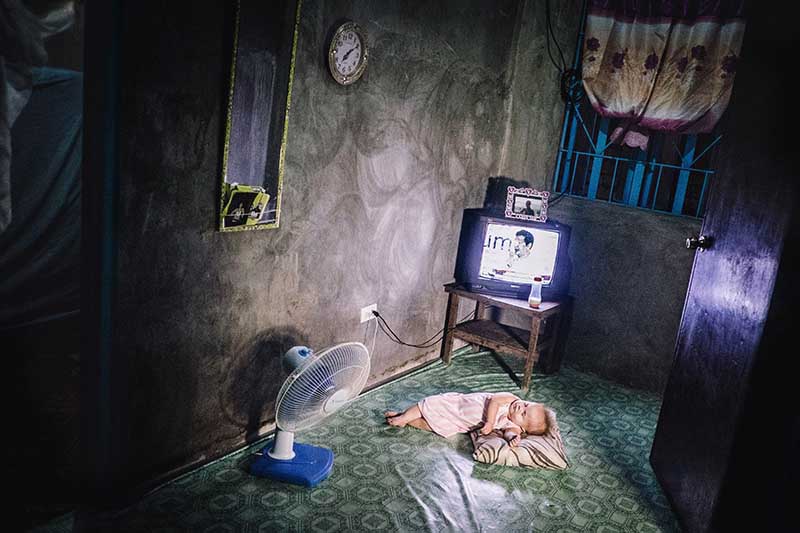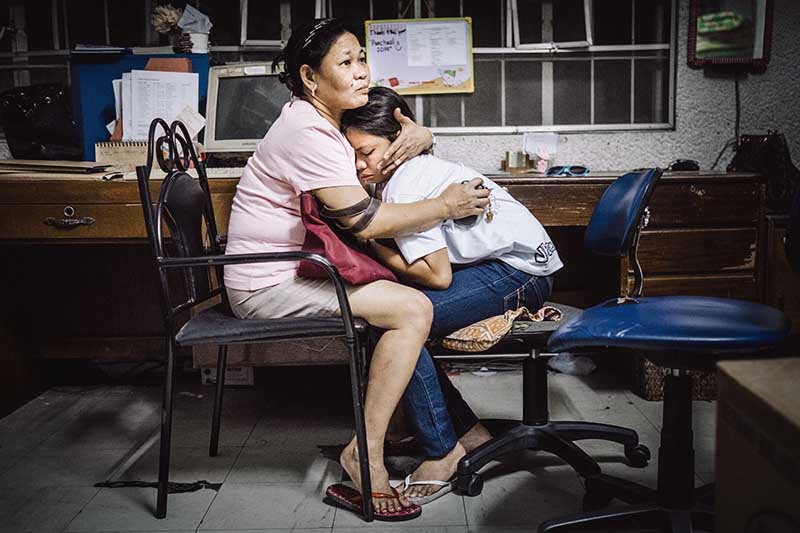 Click on a picture to enlarge
The jury awarded the second prize to German photographer Christian Werner for his series on the appalling suffering of Yazidi refugees in northern Iraq. South African photographer Brent Stirton is the winner of this year's third prize. He documented the luck of two Indian girls who were cured of congenital blindness thanks to a simple eye operation.
The international competition is organized for the 15th time by UNICEF Germany in cooperation with GEO Magazine. In addition to the first three prizes, the competition's independent jury also awarded six honorable mentions. In 2014, international experts nominated 78 photographers from 23 countries, who submitted a total of 968 pictures.
"Insa Hagemann and Stefan Finger show that sex tourism can have a major impact on the life of people in poor countries", said Dietmar Bär, actor and co-founder of the children's aid organization Tatort Verein. "For their research, they also visited the aid organization PREDA that, with support from German Tatort Verein, provides shelter to victims of sexual violence and sex tourism." Together with fellow actor Klaus J. Behrendt, he presented the winner's certificate on Tuesday in Berlin.
"The UNICEF Photo of the Year requires us to pause and watch", said Board Member of the German Committee of UNICEF, Peter-Matthias Gaede, "since each and every picture in the competition shows that we still have a long way to go until children's rights are put into practice."
"This year, it was particularly difficult for the jury to choose a winner. All three winning pictures are incredibly concise and impress with an almost frightening intensity. They are heavily influenced by art photography since the distinction between documentary and art photography becomes more and more blurred", said Jury Chairman Professor Dr. Klaus Honnef.
"All winning photo series show what happens to children all around the world: the suffering but also the help that can turn things for the better or even into great joy – even in seemingly hopeless situations", said Ruth Eichhorn, Director of Photography at GEO Magazine and member of the jury.
The winning photo series: Children without fathers
The winning picture was shot in Angeles City, Philippines, one of the country's hotspots for sex tourism. A blonde girl is watching other children play. Her mother met her father on the internet and is sending him pictures of her daughter, but he is not supporting the family. Australians, Europeans and Americans travel to the Philippines, looking for cheap sex. Local women and girls often have no choice but to sell their bodies. Or they hope that these rich white men will lift them from poverty. However, as a rule, the men disappear. And the children, having lighter and sometimes darker skin, fair hair and blue eyes are considered as exotic. They often have to live with the stigma of being children of prostitutes, no matter what profession their mothers might actually have.
Insa Hagemann and Stefan Finger, photo agency laif, have painted a gentle portrait of these Philippine children. They have met their mothers and asked about their fathers. And they went to visit the aid organization PREDA that provides shelter to victims of sexual violence and sex tourism. According to UNICEF estimates, approx. 100,000 children under the age of 18 in the Philippines are forced to work in the sex industry. The organization runs awareness campaigns, trains social workers and police officers and advocates for better legislation and ways to protect the children.
Second prize: The displacement of the Yazidi people in Iraq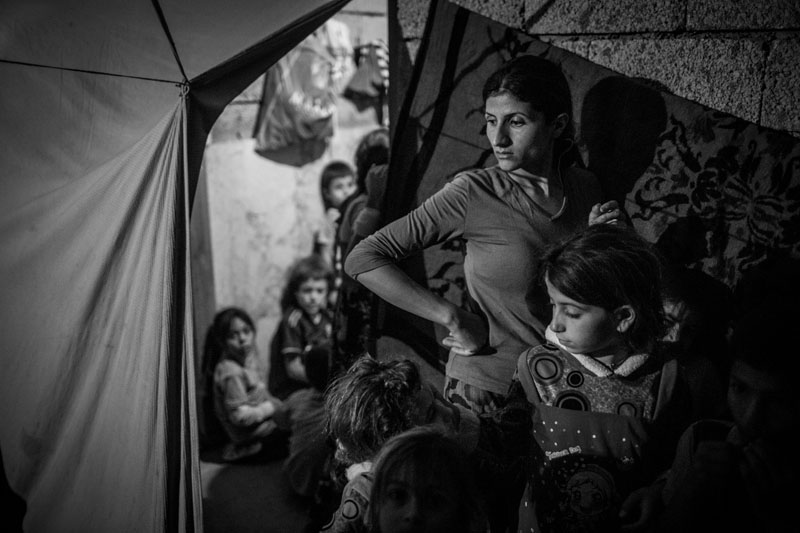 Iraqi winter: three degrees Celsius, rain. Yazidi families who fled from the barbaric butchers of the 'Islamic State' have found temporary shelter in tents, on the streets and amid the concrete shells of unfinished buildings and the debris of the ones destroyed. German photographer Christian Werner, photo agency laif, visited the town of Zakho on the Iraqi-Turkish border to where thousands of this Kurdish-speaking, religious minority have fled. They live under horrible conditions, especially their children. They suffer from cold, confinement, hunger and a lack of clean water. And they live in fear and with the traumatic experiences they made during the massacres they suffered at the hands of the 'IS'. More than two million people have been displaced within Iraq, more than half of them children.
In a race against time, UNICEF organizes weatherproof tents for emergency schools as well as kerosene for heating and 200,000 packages with warm clothing for children. In addition, children are vaccinated against measles and polio right on site at the border crossing in Zakho due to the high risk of epidemics.
Third prize: A journey into the light in India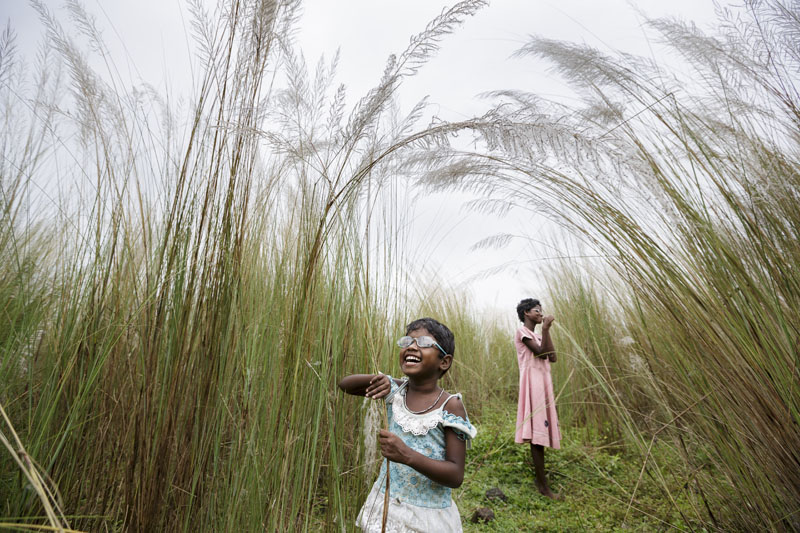 Five-year-old Anita Singh and her twelve-year-old sister Sonia discover the wonder of light. They were blind, born with an eye defect in a poor farming village in one of India's poorest regions. 20 million people worldwide suffer from this defect, twelve million in India alone. Thanks to donations, both girls were able to afford an operation at the Vivekananda Mission Hospital. This form of congenital cataract blindness can be corrected in a 15-minute operation. However, the costs for such an operation amount to 300 US dollars - three times the annual income of a peasant family in India. That's why countless children suffer the same fate: staying blind.
The photographer of this reportage, Brent Stirton, born in 1969 in Durban, South Africa, photo agency Getty Images, is one of today's most internationally renowned photographers.
The jury also awarded honorable mentions to six other photo series:
In 2014, the jury consisted of Jury Chairman Prof. Dr. Klaus Honnef, Art Historian and Journalist; Ruth Eichhorn, Senior Picture Editor of GEO Magazine; Lutz Fischmann, Managing Director of Freelens e.V.; Bernd von Jutrczenka, Director Picture Service dpa; Maria Mann, Director of International Relations & Business Development, epa - European Pressphoto Agency; Prof. Dr. Rolf Nobel, Head of the Faculty of Photography, University of Applied Sciences for Design and Media, Hannover; and Reinhard Schlagintweit, Honorary Member of the German Committee of UNICEF.
Press Service
We can provide you with the winning photos on request (one photo per series). Free printout of the photos is only allowed within news coverage about "UNICEF Photo of the Year 2014" and with copyright information of the photographers.
Please direct any questions and interview requests to the UNICEF press office:
Kristina Müller, +49 (0)221/93650-315, email presse@unicef.de or
Angela Rupprecht (Project Manager), +49 (0)173/5475351